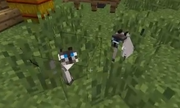 Destiny is Chimney's new cat that he tamed so Melvin could have a friend. She was tamed in episode #334 of The Minecraft Files . When Chimney tamed her and saw she was the same pattern as Melvin, he said it was 'destiny' for them to be together. He then decided to name her Destiny.
Relationship with Melvin
Edit
Melvin is Destiny's husband. They were introduced to each other by Chimney. Chimney told Melvin to make sure Destiny didn't treat him badly. In episode #342, Chimney made them a 'love hut'. He later stated that Melvin was getting ready to 'pop the question' to Destiny. He planned and conducted a wedding for Melvin and Destiny in episode #375 of The Minecraft Files.