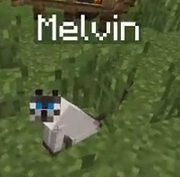 Melvin is Chimney's loyal pet cat. Melvin was obtained in episode #189 of The Minecraft Files , during Season 3. Chimney and Melvin communicate to each other using a special language. They are very close.
Relationship with Destiny
Edit
Destiny is Melvin's wife. They were introduced to each other by Chimney. Chimney told Melvin to make sure Destiny didn't treat him badly. In episode #342, Chimney made them a 'love hut'. He later stated that Melvin was getting ready to 'pop the question' to Destiny. He planned and conducted a wedding for Melvin and Destiny in episode #375 of The Minecraft Files.
Ad blocker interference detected!
Wikia is a free-to-use site that makes money from advertising. We have a modified experience for viewers using ad blockers

Wikia is not accessible if you've made further modifications. Remove the custom ad blocker rule(s) and the page will load as expected.