Socks is a horse tamed by Chimney when he was bored on episode #310. He is a horse taken from Stars' group. Socks lives on Chim's farm with Melvin, Destiny , Stars and Don Juan . Socks was the 3rd horse tamed. He was named Socks because of a Swifter suggestion. The Swifter posted this: You should name your new horse Socks, because it looks like he's wearing socks!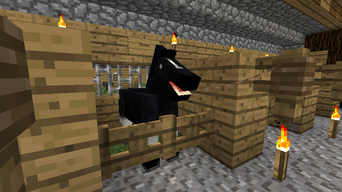 Characterisitcs
Edit
Socks is a black horse, with white stockings and blaze on his legs and head. His legs are entirely white and his feets are black.
Relationship with Chimney
Edit
Stars was tamed at the end of the TQF epsiode #310 and named on episode #311. He was tamed because Chimney was bored.
"*Talking* Duah! I can't even talk today, let's tame a horse."
Socks has been the guest horse since the TQF episode with Double.