Stars is Chimney's horse in The Minecraft Files Season 6. Stars was the first horse that Chimney tamed. It was tamed on the first episode (episode 301), but not named until Episode 304. Stars lives on the farm with Chim, Melvin, Destiny, Socks and Don Juan. The name "Stars" was a Swifter's suggestion, who said it should be named Stars because 1) His spots look like stars against the black coat and 2) Because old western sheriffs wore stars.
Characteristics
Edit
Stars is a white-dotted stallion. His body is mainly black. He's friendly and brave, and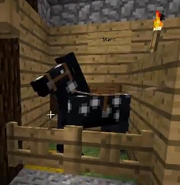 joins Chimney on his adventures. He is Chimney's main horse, obtained on the first episode of season 6 of The Minecraft Files.