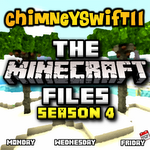 The Minecraft Files
is a series created by ChimneySwift11. It haas run for 6 seasons, and will probably run for many more. In The Minecraft Files, Chimney builds things that fans request for him to build in a Minecraft world. It is the longest running series on Chimney's channel.
In Seasons 1 and 2, Chimney used the same Minecraft world. However, when Season 3 came, he created a new world due to the release of Beta 1.8. Season 3 also introduced TQF (or Triple Question Friday), where he answers 3 questions from comments on the last TQF. In Season 4, Chim used a mod called TropiCraft. Season 5 was Medieval-themed. Unlike past seasons, Chimney played in creative. However, TQF was replaced with RPF (which stands for Role Play Friday). On RPF episodes, Chimney played in survival mode. He would complete a quest from one of the NPCs that he created. Season 6 was kicked off with a special event of The Minecraft Files called: "The Minecraft Files Week", which started on Monday, August 12th and ended on Friday, August 16th. During The Minecraft Files Week, a new episode of the Minecraft Files was released every day, from Monday to Friday. In Season 6, TQF came back, and Chimney went back to survival again. Season 6 is Wild West Themed. The most important aspect of Season 6 were horses and farming. However, later in the season, Chimney began to focus on more technical things in Minecraft, such as exploration, potion brewing, battling the Ender Dragon, and defeating the Wither.
In The Minecraft Files, Chimney's main pet is Melvin , a siamese Minecraft cat. He was obtained in Episode 189, in Season 3. He accompanies Chim on all of his adventures. However, in Season 4, Melvin was replaced with Tropicat , a black cat from a spawn egg. He was badly requested by the Swifters, since Melvin couldn't enter to the Tropical Realm.
In Season 6, Chimney tamed a horse named Stars in the 1st episode of the season. Chimney also has a Donkey named Don Juan , obtained on the 7th episode. On the 10th episode, Chimney was bored, so then he tamed a horse named Socks.
On Episode 34 of the season, Chim tamed an ocelot cat to be Melvin's girlfriend. He named her Destiny . On Episode 75, Melvin and Destiny got married.
Theme Song Lyrics
Edit
Come one, come all to the Minecraft Files!
ChimneySwift's skills will drive you wild!
From a treehouse to a city bank, 
It's The Minecraft Files all day!
Latest Episode
Edit
The newest episode:
List Of Episodes
Edit
Season 1:
Edit

Season 2:
Edit

Season 3:
Edit

Season 4:
Edit
Season 5:
Edit

Season 6: 
Edit

#321 Water Well
Edit